There have been numerous shares that have been racing towards their Covid-19 lows as the Indian markets look to continue their downtrend. The benchmark index has fallen 4.22% to 15,732.1 in the last one week. While the broader market index might not reflect the damage done to the equities market in the past few days, a lot of individual stocks have lost almost 50% of their value from the 52-week highs while some have even fallen below their 52-week lows.
Indiabulls Housing Finance Ltd (NS:) is one stock that has proven to be a nightmare for investors. The shares of Indiabulls Housing Finance fell over 12% intraday to trade at the day's low of INR 90.75, the lowest level since April 2020. At the current closing price of INR 101.75, the share price of Indiabulls Housing Finance is down over 67.5% from the 52-week high of INR 313.7, marked on 16 June 2022.
Image Description: Comparative analysis of Nifty 50 (Purple) & Indiabulls Housing Finance (Blue) for 2022
Image Source: Investing.com
The relative performance of Indiabulls housing Finance shares has also been not so good compared to the Nifty 50. This year, while the Nifty 50 is down 9.35% so far, the stock has fallen over 53.33% in the same period, depicting a massive underperformance.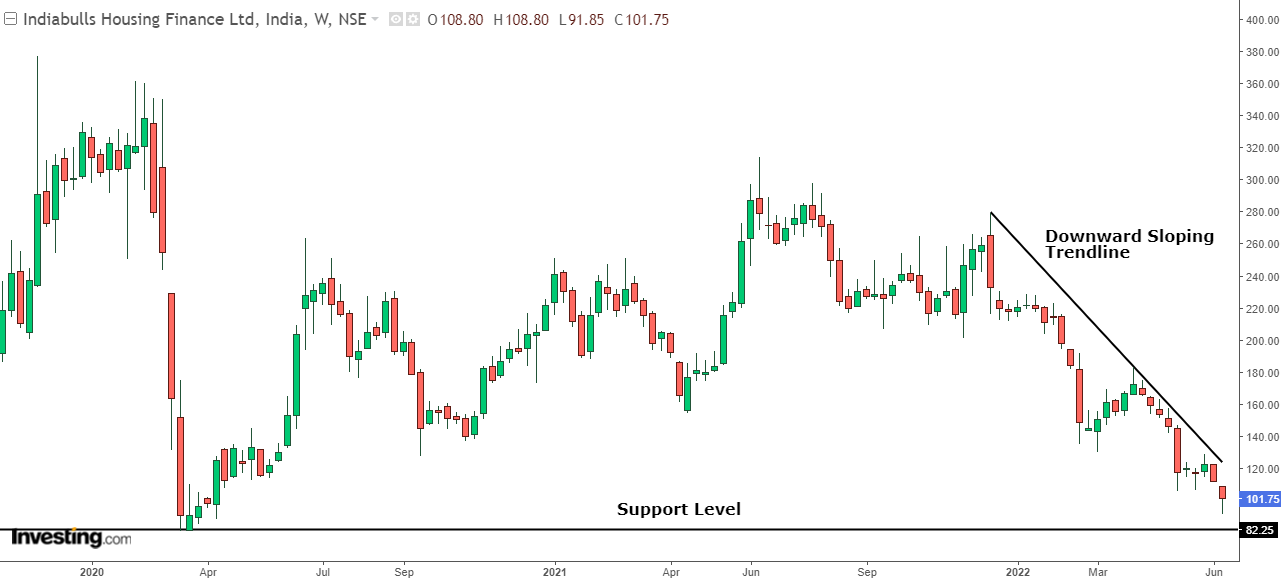 Image Description: Weekly chart of Indiabulls Housing Finance shares
Image Source: Investing.com
Despite an intraday recovery from the day's low, the chart is still looking on the weaker side. Today's plunge has also been accompanied by a decent spike in volume figures to 73.81 million shares, which is the highest one-day volume for the year. Volume expansion in the direction of the ongoing trend only increases the reliability of the trend, hence the question of an uptrend is still out of sight.
As of now, the last support for the stock is the Covid-19 lows which were marked in March 2020. A level of INR 80- INR 81 seems to be a strong support zone where the stock could halt its downtrend. However, during such a strong bear trend, hardly any support zone is strong enough to reverse the trend.
One thing to cheer for the bulls is the bullish divergence that is being formed at the bottom. The Williams %R is clearly indicating a bullish divergence which generally leads to a bounce from these oversold levels, at least for the short term. This bounce could help investors to find a relatively better level to exit, the rally of which could stretch to the nearest resistance of around INR 120. 
Divergence is also a good indicator for a bottoming out of a stock, but that needs to be followed up by a rally, accompanied by an uptick in volume.  
https://in.investing.com/analysis/indiabulls-housing-finance-tanks-to-2year-low-what-the-chart-is-saying-200525022